Edgar's Page
User Manual
1.The name of your game, and your team members' names
Team Members:
Edgar Tandiawan 2101699666
Nicolas 2101704520
Lamin Gitteh 2101711103
Sarden's life is the name of the game that we were making and it was based on biology for this exact program. This game taught us not to dump waste on the ocean for the fish. The game will start to play as the fish and can choose to eat bad or good food. After the game ends, the user can participate to answer biology quizzes.
2. at least three images (screenshot) showing a typical scene from your game being played
Game End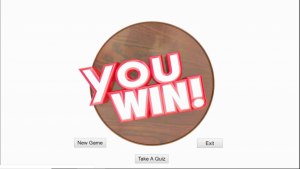 Main Menu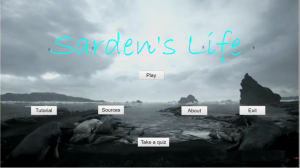 Quizzes

3. how to play your game, including what things happen and how the scoring works
the game start as the user play using the fish to move around and eat good or bad food. the scoring system is by health, the health will increase or decrease according to the user action while playing the game. the starting point is 50 health and the objective of the game is to make the health to 100 to win the game. The good food consist of smaller fish, pellet, and worm each will add different point to the health and will fade after a certain amount of time. The bad food consist of potato and plastic that will deduct the health by certain amount and if the health hit 0, then the game will end. At the end of the game, some biology quizzes will pop up and the user have to answer it.
4. what player controls are available (what keyboard keys do, etc.)
the movement using arrow key, space for speed up, esc button for pause menu, enter for the resume and play background music, and hovering mouse to the food to know which is bad and which is good
5. the contributions of each team members
Nicolas – Gameplay, Variables, Events and action (with the help of Lamin and Edgar)
Lamin – Concept design, sound, quiz
Edgar – Provides and edit the sprites, ideas
6. a list of items you created yourself (models, textures, heightmap, etc.)
the name of the game, the health point system that add or reduce base on the food
7. a list of items you did not create by yourself (write the sources)
Game backgound = https://cdn.dribbble.com/users/375867/screenshots/1512391/under-the-sea-ocean-water-aquarium-game-background-game-asset-side-scroller.png
You win background= http://allmetin.com/you-win-png/gavel-words-legal-court-case-animated-video-motion-rhvideoblockscom-slot-machine-wheels-background-you-you-win-png-win-slot-machine-wheels-animated-video-motion-jpg/
About page background = https://mdbootstrap.com/docs/jquery/css/background-image/
Gameover background = https://www.videoblocks.com/video/pixel-art-game-style-message-game-over-hd-animation-on-black-background-sy1-pyyrgixha4uuj
Fish = https://www.skretting.com/siteassets/global-files/teaser-images/fish_clean.jpg
Crab = https://www.bing.com/images/search?q=imgurl:https%3a%2f%2fwww.prepostseo.com%2ftmp_imgs%2f5109232831542179345.png&view=detailv2&selectedIndex=0&pageurl=&mode=ImageViewer&iss=sbi&FORM=IRSBIQ
Shark = http://pngimg.com/uploads/shark/shark_PNG18810.png
Worm = https://pngtree.com/freepng/cartoon-loach_2602773.html
Small fish = https://www.mcsuk.org/goodfishguide/search
Pellet = https://www.angelsplus.com/images/catalog/fapk3.jpg
Good food sign https://img.lovepik.com/element/40062/2679.png_300.png
Potato = https://vignette.wikia.nocookie.net/stranded-deep/images/7/75/Potato_Icon.png/revision/latest?cb=20171002000418
Plastic bag = https://cen.acs.org/content/dam/cen/92/37/09237-cover-plasticbag.jpg
Explosive = http://www.scienceclarified.com/photos/explosives-2986.jpg
Blood = https://icon2.kisspng.com/20180320/tlq/kisspng-t-shirt-bloodstain-pattern-analysis-blood-in-png-5ab08ca87b6093.3629434415215197845054.jpg
Crab = https://www.bing.com/images/search?q=imgurl:https%3a%2f%2fwww.prepostseo.com%2ftmp_imgs%2f5109232831542179345.png&view=detailv2&selectedIndex=0&pageurl=&mode=ImageViewer&iss=sbi&FORM=IRSBIQ
Shark = http://pngimg.com/uploads/shark/shark_PNG18810.png
Worm = https://pngtree.com/freepng/cartoon-loach_2602773.html
Small fish = https://www.mcsuk.org/goodfishguide/search
Musics = https://www.melodyloops.com/music-for/games/
http://soundbible.com/free-sound-effects-1.html
Tutorial background = https://www.colourbox.com/vector/underwater-seamless-landscape-cartoon-background-for-game-design-vector-17687138
Pause menu backgound = https://docplayer.net/docs-images/62/47460771/images/22-1.jpg
Main menu background = https://static.giantbomb.com/uploads/original/0/5370/2863372-sony3.png
Quiz = https://offbeat.topix.com/quiz/18433/qidx10
Iguana = https://www.usatoday.com/story/news/nation-now/2018/03/13/bashing-iguana-heads-researchers-smash-reptiles-death-fight-florida-invasion/420396002/
Sperm whale = https://www.hakaimagazine.com/news/sperm-whales-have-eve/
Dog = http://www.vetstreet.com/dogs/
Lizard = http://www.moorsforthefuture.org.uk/community-science/lizard
Cartoon animals = https://friendlystock.com/product/cartoon-baby-animals/
Hemoglobin = https://www.utakatikotak.com/kongkow/detail/6134/Mengenal-Hemoglobin-dan-Metode-Ideal-untuk-Menghitungnya
Question background = https://www.videoblocks.com/video/question-mark-background-blue-reobxysngjgcfi0i9
Human = https://www.dhakatribune.com/feature/health-wellness/2018/03/29/new-organ-discovered-human-body
No Comments »
RSS feed for comments on this post. TrackBack URL
Leave a comment